BabyFM
TEMPERATURE MONITORING SYSTEM FOR BABIES
| | |
| --- | --- |
| | BabyFm |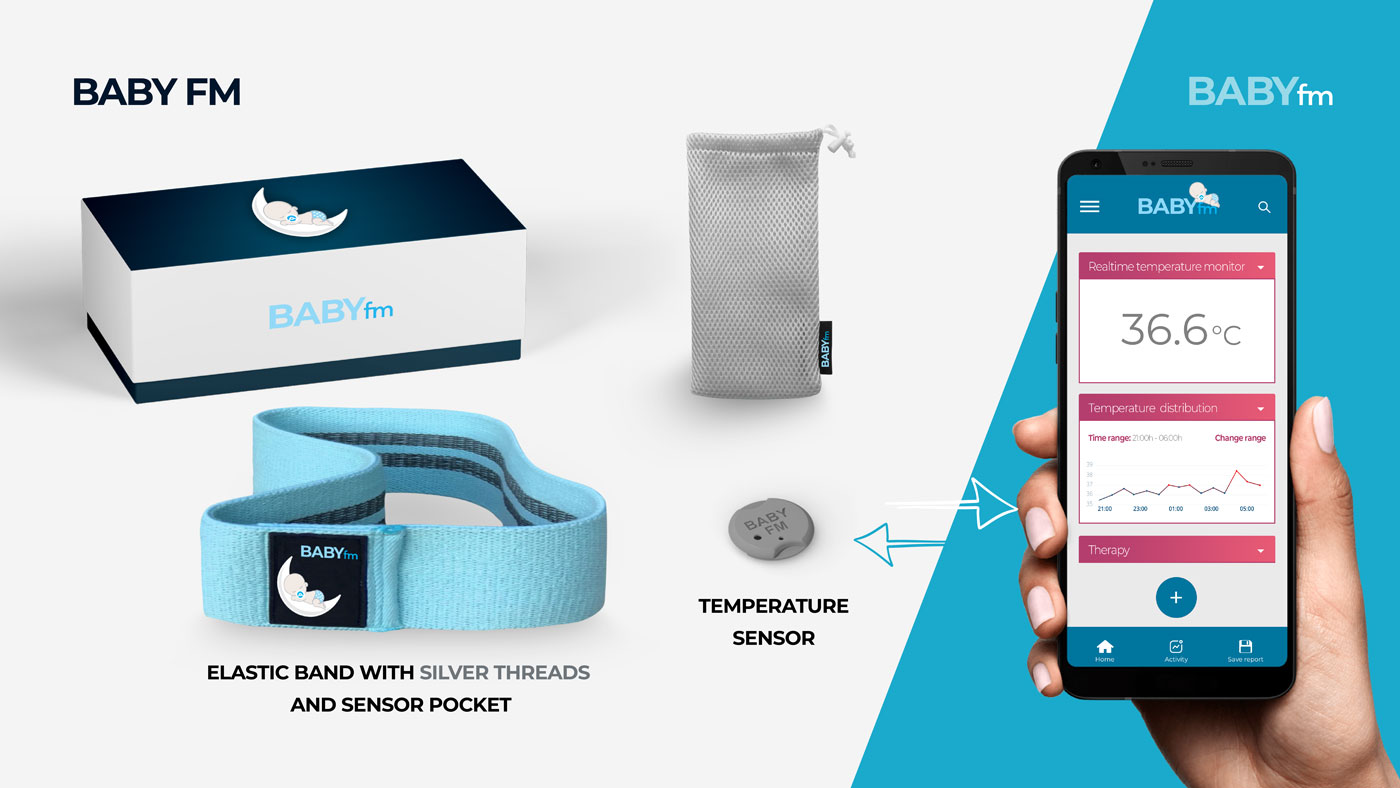 BabyFM is a system enabling parents to monitor baby's body temperature continuously, with alarm and notification features, monitoring of drug dosage, and graphic reports that can be sent to doctors from the app. The system can be used at home and in clinics and recommended to parents whose children have febrile conditions. It is designed to allow children to move, play and sleep comfortably. The sensor is placed in an organic cotton band with silver threads with an anti-allergenic effect. The plastic box with the sensor can be removed and band reused upon washing.
MARKET FOCUS AND POTENTIAL
The first phase and the test market are the Serbian market and the Balkan Region. The second phase focuses on EU and US markets, with 8M babies born annually. For the first 10k units sold for 50$ and average annual subscription, expected revenues exceed 3M$. There are ongoing negotiations to enter the MENA region.
TEAM
Ivan Soldatović, doctor and biostatistician, professor at Faculty of Medicine in Belgrade, consultant for international pharma companies, Tamara Jakovljević, PhD in sensorial technologies, previously engaged on projects for Frontech Solutions Inc, Brainwave Science, Swiss IPG Group, and Vladimir Jeftovic, engineer and programmer of scalable software for millions of users, such as Alexa voice recognition system. The company has an extended team of engineers, programmers, doctors, and business and financial advisors.

PARTNERSHIP OPPORTUNITIES
The company is currently testing and developing MVP2. The product will undergo clinical testing in Q2 2022 at National Pulmonology and Children's Clinic in Belgrade. From February 2022, the product will be tested in Acibadem Bel Medic clinic, involving doctors and parents, also serving as product ecosystem testing and market preparation phase.
The team works on patent and CE mark registration, planned for 2022. Investment needed for system and team scaling and certification and patents in new markets, $400K with 10% equity.